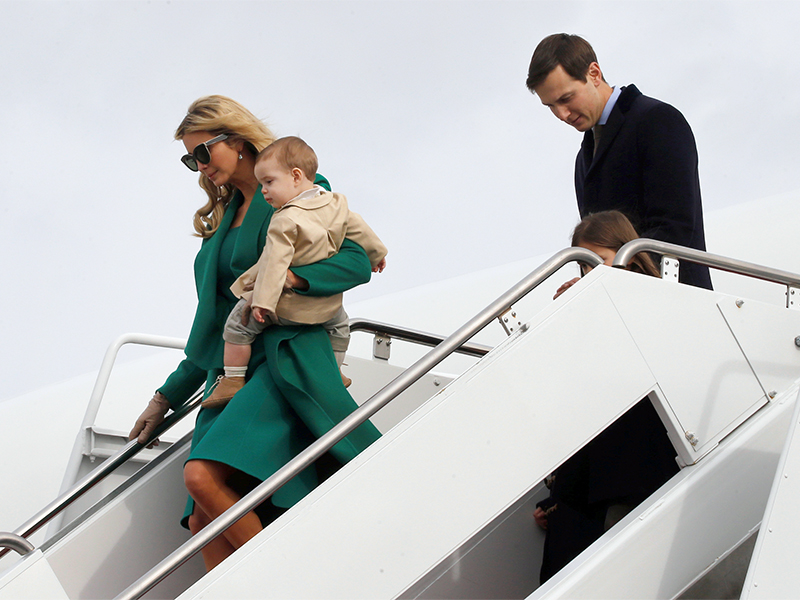 Ivanka Trump gets a rabbinic pass to travel on Shabbat
JERUSALEM (RNS) Friday's inauguration presented Ivanka Trump and her husband, Jared Kushner with a dilemma: How to travel around Washington after the start of the Jewish Sabbath at 4:58 p.m.
To get around the problem, a rabbi close to Trump and Kushner granted one-time permission to travel in a car following the inauguration, out of concerns for the couple's safety, Mark Zell, the chair of the Republican Party in Israel, told an Israeli radio station this week, but did not elaborate.
Orthodox Jews, such as Trump and Kushner, are not allowed to drive or ride in a vehicle on the Sabbath, which begins on Fridays at sundown just as the post-inaugural balls in Washington for Trump will be starting.
Driving on Shabbat is considered a form of work on the day of rest, but exceptions can be made in order to save a life or when there is a medical emergency, including childbirth.
Social media lit up this week with debates over whether Trump and Kushner should have sought the rabbinic loophole.
Some accused the couple of not adhering to Jewish law while others suggested there might be known threats to their safety.
In a 2015 article with Vogue magazine, Trump, an Orthodox convert to Judaism, described her family as "pretty (religiously) observant."
"We observe the Sabbath," she said. "From Friday to Saturday we don't do anything but hang out with one another… it's an amazing thing when you're so connected, to really sign off."
Amid the Jewish community's speculation over the driving dispensation, Times of Israel blogger Jessica Levine Kupferberg implored Jews to "stop frum-shaming Ivanka." Frum" is the Yiddish word for religious.
"I have never heard Ivanka claim she is the paragon of Orthodoxy. I have only ever heard her talk about the beauty of Shabbat as family time and the importance of religion to her family," Kupferberg wrote. "The fact that she asked a rabbi for a "heter" (rabbinic permission) shows she cares enough to try to work within halakhah (Jewish law) to figure this whole thing out.
"In any case, Kupferberg added, "it's not really any of my business, or yours."
(Michele Chabin is RNS' Jerusalem correspondent)