Rubble from demolished buildings cover a temple in Varanasi, India, on Nov. 24, 2018. (AP Photo/Rajesh Kumar Singh)
Need to know: Tuesday, April 23, 2019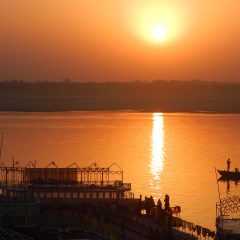 Prime Minister Narendra Modi's 'dream project' at an 18th-century shrine to Lord Shiva has swept up monasteries, old-age homes and shops that had existed for generations.
Friends, family and supporters of prominent Christian author Rachel Held Evans are pooling funds to help cover her medical expenses after she was hospitalized over the weekend and placed into a medically induced coma.
The celebration of Holy Week in this colonial town southwest of Mexico City is one of the most dramatic and shocking in the country.
In a time of social isolation and loneliness, co-housing communities are on the rise. Residents say life together has challenges but offers many rewards.
The 108-year-old's record-breaking running career traverses key issues like classism, racism, literacy bias, ableism and ageism, writes Simran Jeet Singh.
Right after a governing body of the United Methodist Church in February approved keeping the denomination's ban on gay clergy and on any clergy officiating at same-sex weddings, the Rev. Tex Sample of Trinity United Methodist Church in Midtown Kansas City was indignant and defiant.
Latest news from RNS
Defense Minister Ruwan Wijewardena described the bombings as a terrorist attack by religious extremists and said seven suspects had been arrested, though there was no immediate claim of responsibility.
Six years after the deadly Boston Marathon bombing, a local mosque continues to host an annual blood drive in honor of those affected by the terror attack.
The founder of The Wild Church Network, a loose circle of Christian congregations that meet outdoors, seeks a restored relationship with God through nature.
More views from RNS
(RNS) — The traditional pattern of young adults joining churches after they get married and have children has not been holding true.
When Easter Sunday becomes Good Friday, something is terribly wrong, writes Jeffrey Salkin.
(The Conversation) — Among the important disputes settled at the A.D. 325 Council of Nicaea, the church council also resolved that Easter should be fixed on a Sunday, not on the traditional day of the Jewish Passover.