Need to know: Wednesday, April 24, 2019
Dozens of LGBTQ United Methodist seminary students will graduate next month from the 13 schools affiliated with the denomination. Like Spencer Cullom, who is a lesbian, they face an uncertain future.
What might United Methodists' top court decide this week about the Traditional Plan, and what would that mean for the second-largest Protestant denomination in the United States?
Beyond his showmanship, some experts say, the God-obsessed rapper is offering something the church typically doesn't allow for: a space where people are allowed to be saint and sinner.
'The president has allowed us, Christians of all denominations, folks from all different faiths … to take their faith and work it into our policies,' the acting White House chief of staff said.
Six years after Pope Francis was elected, his proposals to reform the scandal-plagued Vatican Curia are ready to be released, writes Thomas Reese. Will they satisfy the critics of the Curia?
Mayor Pete Buttigieg says Christian faith leads in a "progressive" political direction. Conservatives disagree. The debate reshapes old questions about the relation between religion and politics.
Latest news from RNS
Friends, family and supporters of prominent Christian author Rachel Held Evans are pooling funds to help cover her medical expenses after she was hospitalized over the weekend and placed into a medically induced coma.
The celebration of Holy Week in this colonial town southwest of Mexico City is one of the most dramatic and shocking in the country.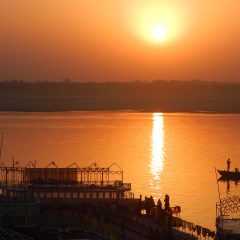 Prime Minister Narendra Modi's 'dream project' at an 18th-century shrine to Lord Shiva has swept up monasteries, old-age homes and shops that had existed for generations.
More views from RNS
It happened in Ukraine, It probably could not happen in the United States.
The 108-year-old's record-breaking running career traverses key issues like classism, racism, literacy bias, ableism and ageism, writes Simran Jeet Singh.
(RNS) — The traditional pattern of young adults joining churches after they get married and have children has not been holding true.