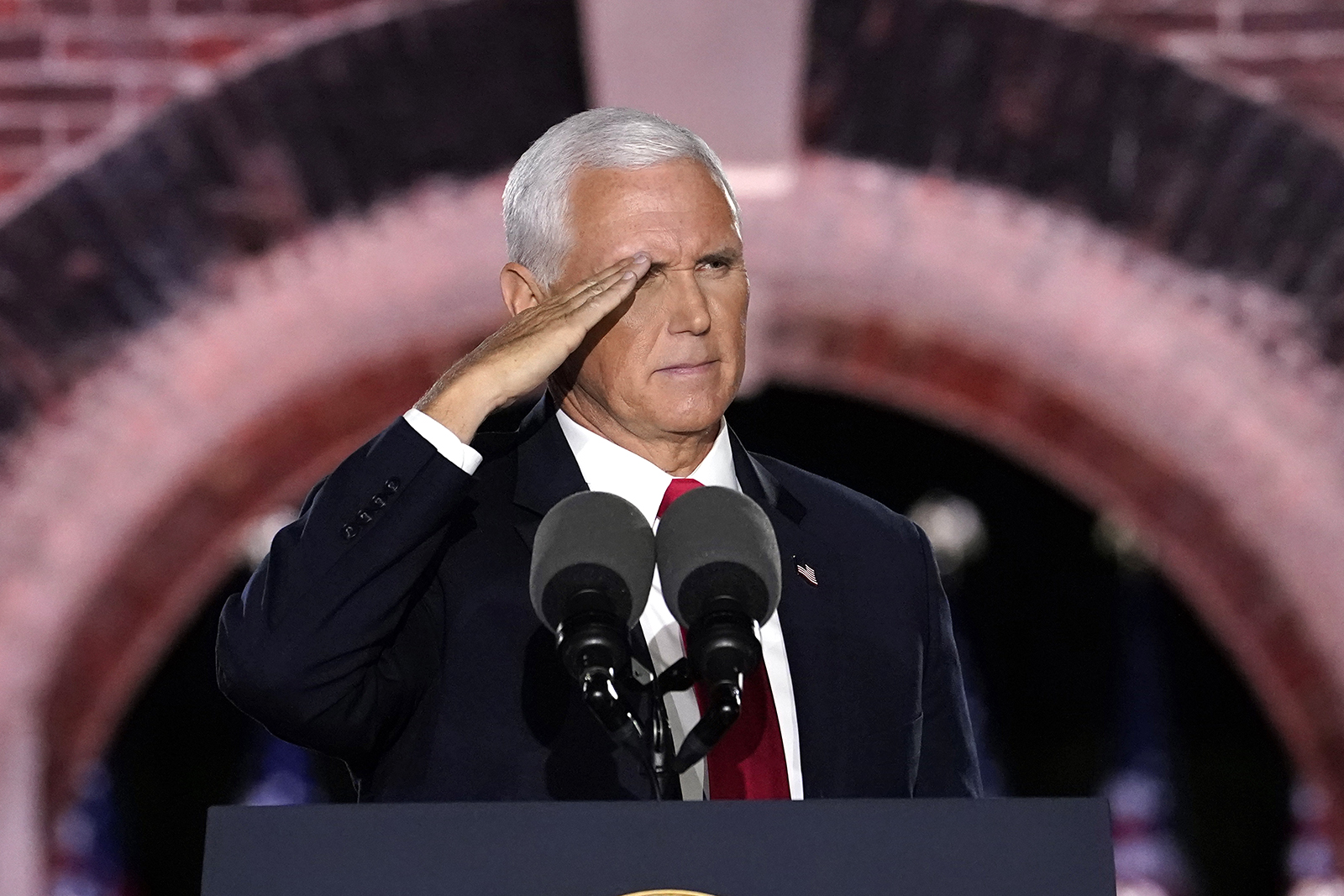 Vice President Mike Pence salutes as he speaks on the third day of the Republican National Convention at Fort McHenry National Monument and Historic Shrine in Baltimore, Wednesday, Aug. 26, 2020. (AP Photo/Andrew Harnik)
Need to know: Friday, August 28, 2020
'Christians fix our eyes on Jesus, not the flag,' tweeted InterVarsity staffer Greg Jao.
Working closely with FEMA, faith-based groups are among the first responders when disasters strike.
'I think progressive Christianity is a sleeping giant,' said the Rev. Nadia Bolz-Weber.
Alumni from the private Christian liberal arts college in San Diego rejected her comments in a letter that as of Thursday afternoon had accumulated nearly 300 signatures.
Throughout Europe, countries recorded a worrying spike in domestic violence, just as 'corona divorces' grow in Japan and China after months of lockdown, with many women citing domestic violence as the main cause.
The evangelical movement has abandoned its claims of piety and morality — instead, becoming a voting bloc intent on holding on to political power, writes Anthea Butler.
Latest news from RNS
CHRISTCHURCH, New Zealand (AP) — The white supremacist who slaughtered 51 worshippers at two New Zealand mosques was sentenced Thursday to life in prison without the possibility of parole, the first time the maximum available sentence has been imposed in the country.
The Hatch Act, which was passed in 1939, prohibits executive branch employees from 'engag(ing) in political activity' while on duty.
The gospel artist said he continues to be 'very vocal about the lack of the church's voice in social issues.'
More views from RNS
In order to be totally in line with Catholic social teachings, you would have to be a pro-life liberal Democrat. These unicorns have a hard time winning elections, writes Thomas Reese.
Pentecostal and charismatic celebrities like Kari Jobe and Rodney Howard-Browne may not be household names. But their movement is a key part of Donald Trump's base.
As he recited the Fatiha, a prayer that opens the Quran, Jacob Blake's father cried for mercy, healing, justice and an end to violence — like countless Black parents before him, writes Omar Suleiman.