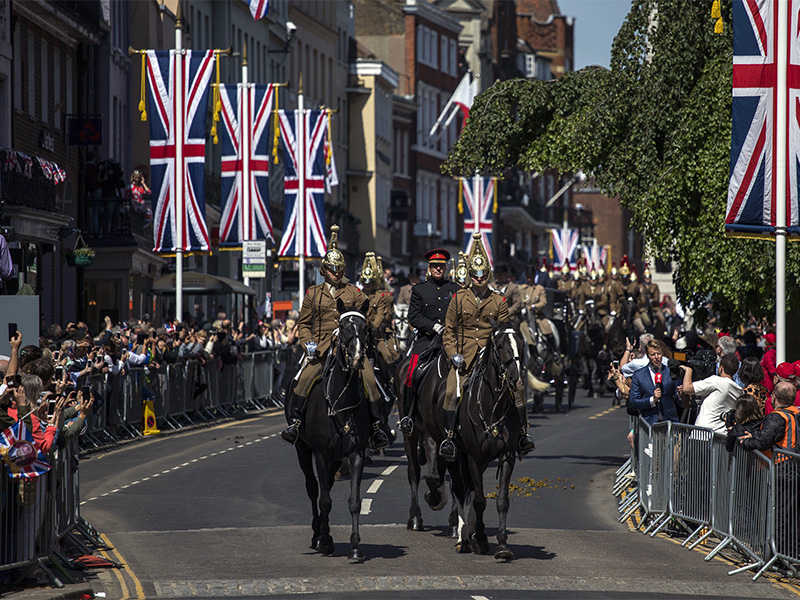 Members of the armed forces ride horses during a parade rehearsal on May 17, 2018, ahead of Prince Harry and Meghan Markle's wedding Saturday in Windsor, England. (AP Photo/Emilio Morenatti)
Need to know: Friday, May 18, 2018
Working royal ties
For Episcopal congregations, tomorrow's royal wedding of Prince Harry and actress Meghan Markel marks a moment of opportunity to welcome newcomers who're suddenly curious about Anglican worship.
More from Religion News Service
Paying for sunshine
Congregations eager to install solar panels are working with cooperatives and other partners who are helping make the projects affordable.
More from Religion News Service
Anxious in paradise
As lava flows threaten homes of 2,000 evacuees, congregations on the big island of Hawaii are helping the displaced secure temporary housing and basic services.
More from bpnews.net
Re-meeting Francis
A new documentary by Wim Wenders, offers audiences a thoroughly engrossing portrait of one of the most beloved and galvanizing figures of the 21st century. (Subscription may be required.)
More from The Washington Post
Not quite worship
"Atheist churches" aim to offer some features of a religious congregation – fellowship, collective enjoyment, a stimulus to moral behavior – while eschewing any belief in a deity or the supernatural.

More from www.economist.com

[slingshot_ad name="Slingshot Middle Cube Ad"]

[slingshot_ad name="Slingshot Banner Ad"]