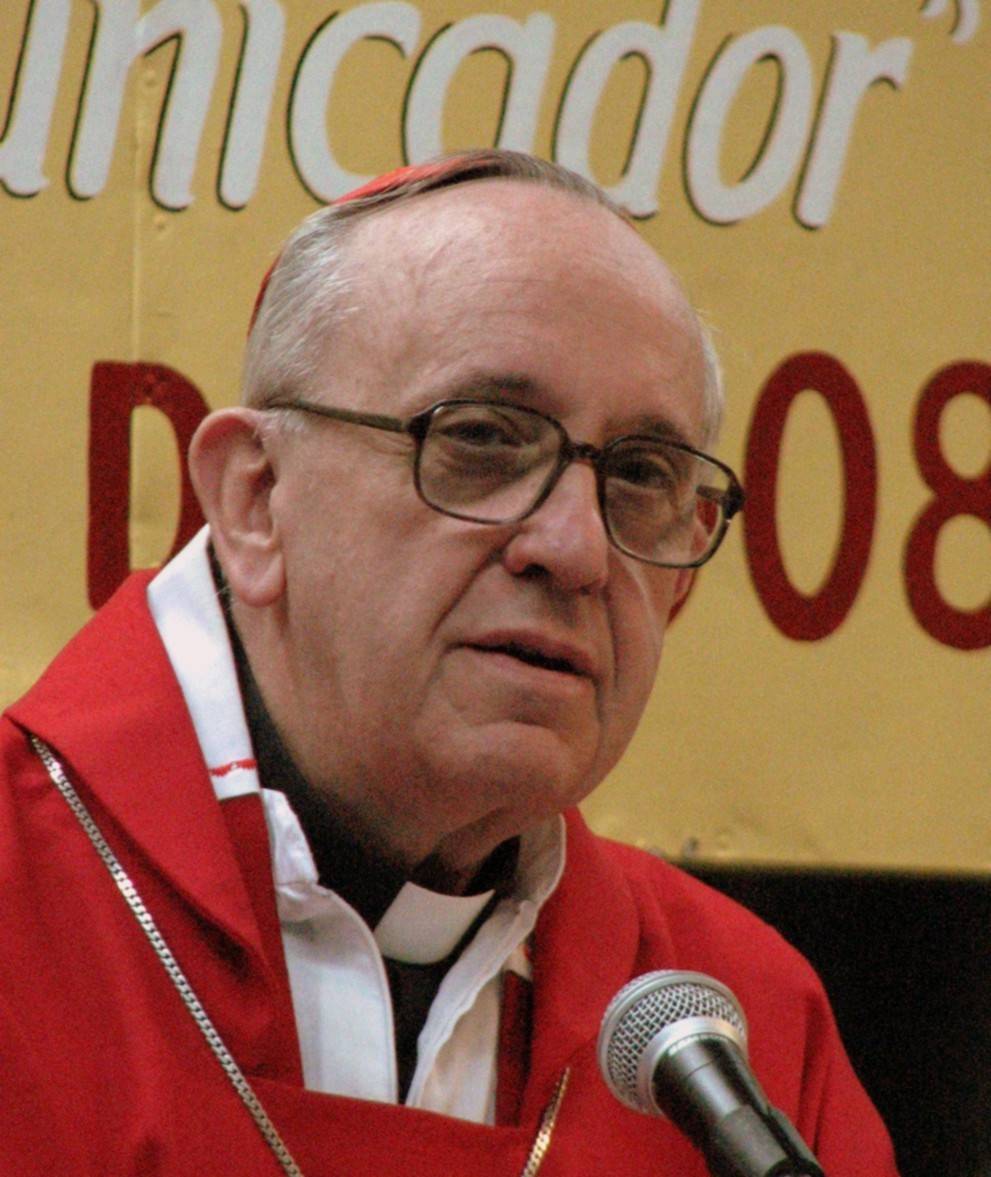 Reactions to Pope Francis' election
"The Catholic University of America is proud to congratulate Cardinal Jorge Mario Bergoglio on his election as Pope. ... We pray that the Catholic Church will grow under his guidance in wisdom and Christ's grace. And we hope to welcome him to our campus some day."
-- John Garvey, president of Catholic University of America
"We anticipate a close relationship with Pope Francis, as, together with our Catholic partners, we continue to advance Catholic-Jewish relations. Pope Francis has demonstrated his profound solidarity with the Jewish community in Argentina in both times of sorrow and joy. We look forward to continued close collaboration with the Catholic Church under his leadership as we have been privileged to enjoy his predecessors."
-- Rabbi David Rosen, international director of Interreligious Affairs, American Jewish Committee 
"The election of Cardinal Jorge Mario Bergoglio, who has taken the name Francis I, marks a great milestone in our church. As successor to Peter, our first pope, Pope Francis I stands as the figure of unity for all Catholics wherever they reside. The bishops of the United States and the people of our 195 dioceses offer prayers for our new leader and promise allegiance to him."
-- Cardinal Timothy Dolan, archbishop of New York
"We welcome Pope Francis, and look forward to hearing about his priorities in the coming days. ... We recall with fondness Pope John XXIII, who confronted the troubles of his day by convening the Second Vatican Council 'to open the windows of the church to let in some fresh air.' Pope Francis needs to go even farther and throw open the Vatican's doors to shed some light on a bureaucracy that has allowed the management of the Vatican Bank and the sexual abuse crisis to get completely out of hand."
-- Jon O'Brien, president of Catholics for Choice
"With the election of Pope Francis, we are certain that this Papacy will strongly state that our economy exists for the common good. Clearly, with Cardinal Jorge Bergoglio's history, Pope Francis will be a strong voice that our economy must serve and protect the most vulnerable. This Pope will stand up for the rights of poor people, migrants and workers."
-- Eric LeCompte, executive director of Jubilee USA
"We've long worried about child sex crimes and cover ups by religious order clerics like the Jesuits. Religious orders have often been worse than bishops at hiding predators. The Jesuits, in particular, have a troubled track record on children's safety. So we're struck by how this new pope, coming from a religious order, has both an enormous opportunity and duty to help prevent heinous assaults against kids by this crucial and relatively secretive segment of the Catholic clergy."
-- David Clohessy, executive director of the Survivors' Network of those Abused by Priests 
"We congratulate Pope Francis on his election by the College of Cardinals and offer the Muslim community's support and cooperation in every positive effort he will undertake for peace, justice and the betterment of humanity."
-- Nihad Awad, national executive director of Council on American-Islamic Relations
"Teresa and I will keep the Holy Father in our prayers as he begins a new era for our Church. On this momentous day, the United States renews our commitment to working closely with the Holy See to advance our shared belief in peace and humanity. We offer the Holy Father our warmest wishes of success in advancing peace, freedom, and human dignity throughout the world."
-- Secretary of State John Kerry
"It's remarkable that they've chosen a Jesuit. That's even more remarkable than choosing a non-European. That he's a Jesuit says so much about his commitment to the poor, and that he's taken the name of Francis -- in recollection of Saint Francis of Assisi -- clearly gestures that the Roman Catholic Church not only serves the poor, the Roman Catholic Church is the church of the poor."
-- Stanley Hauerwas, theology professor at Duke Divinity School
 "The selection of a Pope from the Global South, whose ministry has been outside the Vatican, and who takes the name of Francis, is a sign of great encouragement and hope for the whole Christian community."
-- Wes Granberg-Michaelson, general secretary emeritus of the Reformed Church in America
"For me, it is truly inspiring that our new pope has taken the name of Francis, the saint who lived a simple life of humility and charity, setting an example for how to make God's love visible to all, especially those in despair or pain."
-- House Speaker John Boehner
"On behalf of the American people, Michelle and I offer our warm wishes to His Holiness Pope Francis as he ascends to the Chair of Saint Peter and begins his papacy.  As a champion of the poor and the most vulnerable among us, he carries forth the message of love and compassion that has inspired the world for more than two thousand years—that in each other we see the face of God.  ... Just as I appreciated our work with Pope Benedict XVI, I look forward to working with His Holiness to advance peace, security and dignity for our fellow human beings, regardless of their faith."
-- President Obama
"Together with the faithful of the Church of Washington, I give thanks to God that we have a Pope and offer our joyful congratulations to our Holy Father Francis, the former Archbishop of Buenos Aires, Argentina. We pledge to him our loyalty and love as the Vicar of Christ, the visible head of the Church Universal and Servant of the servants of God."
-- Cardinal Donald Wuerl, archbishop of Washington
 "We welcome Pope Francis I to his new role as leader of the Catholic Church," B'nai B'rith International President Allan J. Jacobs said. "Catholic-Jewish relations had remained a focus of Pope Benedict XVI and we look forward to continuing the solid foundation that already exists for interfaith dialogue."
-- Allan J. Jacobs, president of B'nai B'rith International  
"The selection of Jorge Mario Bergoglio as the leader of the Catholic Church represents a courageous, bold and catalytic determination. The message conveyed to the global audience solidifies the fact that the center of Christianity no longer rests in the corridors of Europe or America but rather, south of the border. I commend the Cardinals for making such a historic decision."
-- The Rev. Samuel Rodriguez, president of the National Hispanic Christian Leadership Conference
"For decades the Catholic hierarchy has been in need of desperate reform. In his life, Jesus condemned gays zero times. In Pope Benedict's short time in the papacy, he made a priority of condemning gay people routinely. This, in spite of the fact, that the Catholic hierarchy had been in collusion to cover up the widespread abuse of children within its care. We hope this Pope will trade in his red shoes for a pair of sandals and spend a lot less time condemning and a lot more time foot-washing."
-- Herndon Graddick, president of Gay & Lesbian Alliance Against Defamation
"We are inspired by his humility, his devotion to the poor and the depth and thoughtfulness that characterize much of his writing. Pope Francis understands that we are all in need of God's mercy, and we hope that he conducts his Papacy with this kind of humility. ... It is our fervent hope and continuing prayer that Francis will break new ground in opening a conversation with LGBT people so that he may come to know a little about their experiences of God's grace, mercy and love."
-- Equally Blessed Coalition 
 "A new leader has emerged onto the world stage with the election of Cardinal Jorge Mario Bergoglio of Argentina as Pope Francis I. It is a significant day for the people of the world, as well as for the people of the Roman Catholic Church. The church has decided to break with centuries of tradition in choosing its first non-European pontiff of the modern era. Let all of us who hope for a more peaceful world, brought forth through greater understanding between peoples and greater dedication to our highest ideals, pray for Pope Francis I."
-- Senator Robert Menendez, chairman of the Senate Foreign Relations Committee
"The Episcopal Church will pray for the new Bishop of Rome, Pope Francis I, and for the possibility of constructive dialogue and cooperation between our Churches."
-- Katharine Jefferts Schori, presiding bishop of the Episcopal Church
 "I along with fellow Catholics around the world hoped the Church was ready to send a signal that they were ready to stop attacking our families. Sadly, with the election of Jorge Begoglio the Church has demonstrated they remain out of touch with the flock. LGBT people and our allies are not likely to find a friend in Pope Francis I."
-- Joe Mirabella, director of campaigns for All Out
 "The world will greatly benefit from Pope Francis witnessing Jesus' call for us to love God and love one another.  We pledge our faithful support for the Holy Father as he leads the Church in proclaiming the New Evangelization, inviting all people to a develop a closer relationship with Christ and to share that gift with others."
-- Cardinal Sean O'Malley, archbishop of Boston
 "Pope Francis is a humble leader who has vigorously defended the fullness of the Gospel on issues of public concern. Life, marriage, religious liberty and economic justice are borne out of the Church's defense of the dignity of every human person beginning with the unborn. Pope Francis represents a historic invitation to all Catholics, especially Hispanic Catholics, to respond to the call of the New Evangelization in American political life."
-- Brian Burch, president of CatholicVote.org
 "Pope Francis has many items on his agenda, but we hope that he will place the updating of Catholic teaching on LGBT issues at the top of his list. The Catholic Church is hurting because of the many people it has lost due to the homophobia and prejudice of its officials. We need the new pope to be a healer and reconciler, and a true shepherd of all souls."
-- Francis DeBernardo, executive director of New Ways Ministry
"Supreme Knight Carl Anderson and the 1.8 million members of the Knights of Columbus extend cordial best wishes and prayers to our newly elected pope. The election of Pope Francis - the first pope from the American hemisphere - highlights the fact that America is the continent of baptized Christians, and a place of central importance to the faith today. Pope Francis is well known also for his emphasis on charity - the first principle of the Knights of Columbus. Both in our efforts for evangelization and in our charitable work, we will strive with him to bring the light of Christ to the people of our continent during his historic pontificate."
-- Knights of Columbus
"The election of a new pope, Francis I, is a turning point in the life of the Roman Catholic Church, but it also has an impact on people of other churches and faiths. ... Now, in close collaboration with Pope Francis, we look forward to building on this positive relationship with the Catholic Church that has been nurtured so carefully in the past."
-- The Rev. Olav Fykse Tveit, general secretary of the World Council of Churches
"The Catholic Church plays an essential role in my life and the lives of more than a billion people in America and around the world, not just in matters of our faith, but in pursuit of peace and human dignity for all faiths. I look forward to our work together in the coming years on many important issues."
-- Vice President Joe Biden
"As Hindus, it's difficult to have meaningful interfaith dialogue when the Church is openly advocating for the demise of our faith," said Padma Kuppa, HAF Executive Council member. "The appointment of Pope Francis I offers a great opportunity for the Church to build meaningful and substantive relations with a billion Hindus globally, repudiate its history of predatory proselytization, and foster a new relationship based on mutual respect, tolerance, and pluralism."
-- Padma Kuppa, Hindu American Foundation Executive Council member 
"I couldn't help think as I watched, that I was the first Latino American U.S. ambassador to the Holy See watching the first Latin American pope. This is significant, as almost half of the church worldwide is Latin American and almost half of the church in the U.S. is Latino. There's a saying in Spanish that, 'Who we walk with in life matters.' This man has walked with the poor, lived among immigrants, and he has a personal story of migration. This will undoubtedly shape the way he serves."
-- Miguel Diaz, U.S. ambassador to the Holy See
"The humbleness that Pope Francis exudes is inspiring, and his commitment to the least among us, starting with the unborn, is equally impressive. Moreover, his strong embrace of core moral principles, especially as they touch on sexual matters, adds to his appeal. When Catholics celebrate St. Patrick's Day this weekend, we'll all be Irish. But today we're all Latino."
-- Bill Donohue, Catholic League president
"All of us have seen profound growth among Christians of every tradition in Latin America and throughout the southern hemisphere. We pray all of us will be attentive and responsive to the Christian witness that is emanating from that part of the world, and we wish Pope Francis the very best as he begins his new ministry."
-- Kathryn Lohre, National Council of Churches president
 "Since Argentina has 33,389,000 Catholics and only 5,759 priests we are hopeful that our new Pope will restore the traditions of a married priesthood and a female diaconate thereby valuing Mass and the sacraments,the source and summit of our faith,above an exclusively male celibate priesthood. We pray he will consider a change in Church law and permit women called to the ministerial priesthood to test their priestly vocations."
-- FutureChurch
"We live at a time of grave challenges for all Christian communities. Therefore, the need to find common ground for conversation and action in this world are fundamental if we are to be faithful witnesses to Jesus Christ and his kingdom on earth. ... Despite our differences, we can uphold one another in prayer and that the Holy Spirit will guide us and help us discern within our different communities, what tasks God has for us to do."
-- Geoff Tunnicliffe, secretary general of the World Evangelical Alliance