Tara Isabella Burton
Did RBG beat Trump in cosmic court?
By Tara Isabella Burton — October 4, 2020
(RNS) — As social justice takes on the character of a religion proper, it requires demigods like Ginsburg. It's a valorization that threatens to rob her, and us, of her humanity.
Charles C. Camosy
Thomas Reese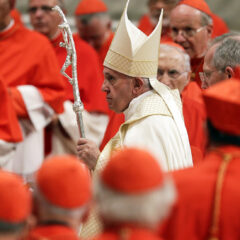 Jana Riess
Jeffrey Salkin
'Borat' is dead serious
By Jeffrey Salkin — October 27, 2020
(RNS) — Forget, for a moment, about the banality of evil. There is also a banality of goodness, and Sacha Baron Cohen's new movie finds it, despite itself.
The hidden Jewishness of the Chicago 7
By Jeffrey Salkin — October 20, 2020
(RNS) — 'The Trial of the Chicago 7' on Netflix hints at the internal Jewish drama that played out in the trial of Abbie Hoffman and his accomplice, Jerry Rubin.
Mark Silk
Jewish voters edge further away from Trump
By Mark Silk — October 22, 2020
(RNS) — Republican politicians — Trump above all — have failed to grasp that Israel policy has never had much impact on the voting behavior of American Jews.
Simran Jeet Singh