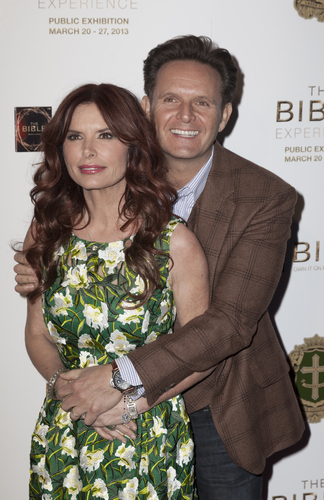 Evangelical campaign says everyone -- even gays -- reflects God's image
NEW YORK (RNS) A group of Christian leaders has set up a new campaign to emphasize that all people -- gay, liberal, undocumented or otherwise -- reflect the image of God.
Six Christian leaders, including Focus on the Family President Jim Daly, "Touched by an Angel" star Roma Downey and her producer husband Mark Burnett, have created a coalition called "Imago Dei," Latin for "image of God," to encourage people to treat each other with respect.
"If we had the image of God in mind for every human being, we could change the world," said the Rev. Samuel Rodriguez, president of the National Hispanic Christian Leadership Conference, who is leading the cause. "I want Christians to not be known for what we oppose but for what we propose."
The campaign, also joined by Liberty Law School Dean Mat Staver and Life Today's James Robison, is intended to include all human beings, but it offers specific examples.
"For the image of God exists in all human beings: black and white; rich and poor; straight and gay; conservative and liberal; victim and perpetrator; citizen and undocumented; believer and unbeliever," the campaign states.
Rodriguez said it's not intended to target a specific group or issue, even as the campaign has raised eyebrows for attracting the support of conservative leaders who have vocally opposed gay rights in recent years.
"We intentionally listed groups to capture the idea that there's no exception to the rule. Our emphasis is not LGBT or political ideology or color of skin," he said. "It's not germane as to whether or not people can change sexuality or not. It's not about condoning a lifestyle, political ideology, worldview."
Rodriguez said he got the idea for the campaign when he was at a restaurant with his family in Sacramento, Calif., and saw girls as young as 12 and 13 who he believed were involved in sex trafficking.
"I looked at my wife and said, 'That girl has the image of God,'" he said, before launching a sex trafficking ministry in his church and eventually in NHCLC.
The biblical emphasis of Imago Dei stems from Genesis, where God said he would make mankind in his own image. Evangelicals have signed similar kinds of statements in the past, but this campaign is more focused and simple, said Glenn Stanton of Focus on the Family.
"If someone says something out of line, someone else can say, 'Hey remember this, how you signed it?'" Stanton said. "Each one of us are image bearers in the sense that each one of us bear the image of God that others don't."
Rodriguez and Daly were included in a movement of religious leaders that created the Manhattan Declaration, a 2009 manifesto that emphasized protecting religious liberty and resisting abortion and gay marriage. The document included a section on the idea that humans bear the image of God.
"We shouldn't forget that the doctrine of Imago Dei necessarily leads to other commitments, especially as it relates to life, marriage and religious freedom," said Eric Teetsel, director of the Manhattan Declaration. "Christians have been emphasizing the Imago Dei for a long time. It's often fallen on deaf ears. If this movement causes people to hear it for the first time, that's a wonderful thing."
Rodriguez declined to disclose how much money is involved in the campaign, saying they are creating financial support, eventually aiming to hire Danielle Jones, who currently leads NHCLC's initiative on sex trafficking. He said Imago Dei plans to create wristbands and launch public service announcements next fall.
KRE/AMB END BAILEY