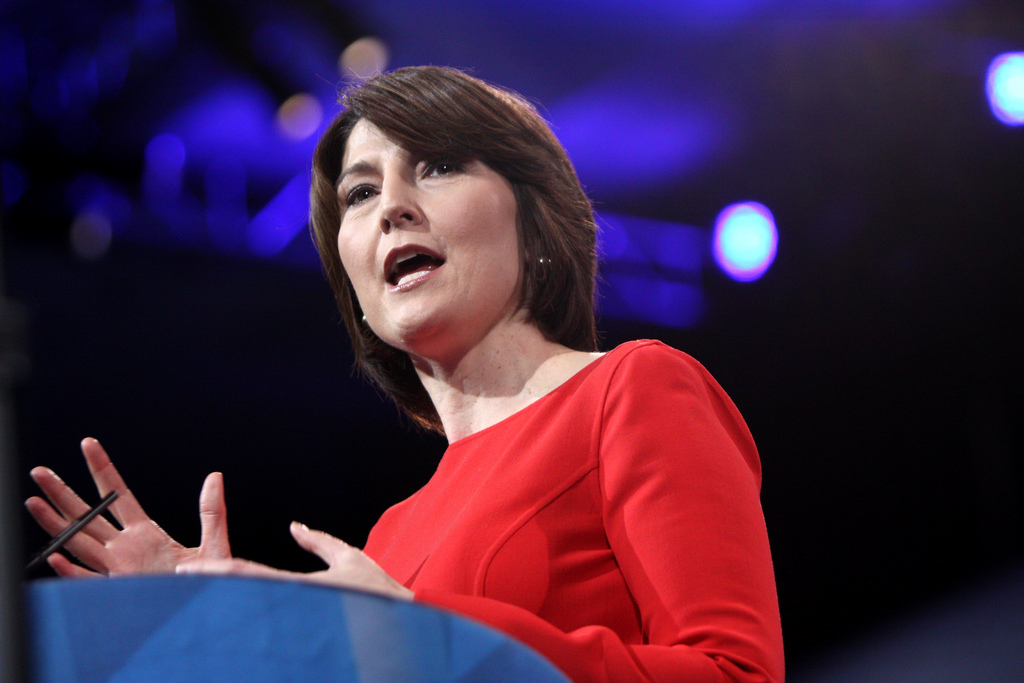 Can Cathy McMorris Rodgers resurrect compassionate conservatism?
(RNS) While President Obama gave a nod to religious leaders on the economy, immigration and gun violence in his fifth State of the Union on Tuesday (Jan. 28), his speech nonetheless included little mention of faith.
And then there was Rep. Cathy McMorris Rodgers, R-Wash., the No. 4 leader in the House Republican leadership, who delivered the GOP response. Her speech was more overtly religious and hinted at a term that has faded from Republican rhetoric in recent years: compassionate conservatism.
The mother of three, who describes her children as "the best alarm clock," has already drawn allusions to former Alaska Gov. Sarah Palin as a woman of Christian faith who can present a new face for the GOP. Whether she can help resurrect the doctrine of compassionate conservatism may be a tougher job.
Popularized by former President George W. Bush, compassionate conservatism is the idea that the government should use traditionally conservative strategies to improve the general welfare of society, from poverty to urban education to HIV/AIDS.
"We believe in a government that trusts people and doesn't limit where you finish because of where you started," Rodgers said in her speech. "That is what we stand for -- for an America that is every bit as compassionate as it is exceptional."
Rodgers may not be the first to resurrect compassionate conservatism, as Sarah Posner notes in Religion Dispatches. When former Arkansas Gov. Mike Huckabee first ran for president, he was seen as a voice for conservatism that is more genial, less corporate, more flexible.
Popularized by Christian writers like World magazine editor-in-chief Marvin Olasky and former Bush speechwriter Michael Gerson, the phrase emerged as one of Bush's key slogans during his 2000 presidential campaign.
The term was so closely associated with Bush, though, that it faded along with his public approval rating, said Doug Wead, special assistant to President George H.W. Bush and the person who is widely credited with coining the term.
"Compassionate conservatism had become a dirty word, or two dirty words," Wead said. "It needs new language."
Wead said that in response to communism in the 1970s and 1980s, people associated social justice with a liberal government, a connection he wanted to change.
"Republicans were talking about the economy like they were bankers or stockbrokers and they weren't compassionate in their motivation," he said. "I read through the Bible several times and asked, 'What's new here? What am I missing in my own faith?' It was the call to help the poor."
The term was embraced by Republicans who wanted to care for the poor -- in other words, what others had already termed "social justice" without its liberal connotations. The best known example of Bush's compassionate conservative doctrine was his work in fighting HIV/AIDS in Africa, which has drawn bipartisan praise.
But as the Tea Party rose to prominence in the Republican Party, priorities became divided, said Ben Domenech, publisher of the Federalist website and senior fellow with the Chicago-based Heartland Institute. A push for "compassionate conservatism" could be problematic for budget-minded fiscal conservatives who wanted to cut food stamps, unemployment benefits and Obamacare's Medicaid expansion, he said.
"It's a fine branding exercise, but when you have to govern with it, it turns into something that undermines everything with the Republican brand," Domenech said. "Compassionate conservatism has value as a political brand, but is not something that can persist without driving away rising tide of younger libertarian voters who are less interested in redistributed compassion and are more interested in getting the government out of the way."
The choice of Rodgers to respond to Obama reflects her rise within the Republican Party. She is a graduate of Pensacola Christian College, seen as one of the more socially conservative Christian institutions. The Florida college was previously opposed to accreditation but reversed its position and was accredited in 2013.
She is a member of Grace Evangelical Free Church in Colville, Wash. In 2010, she brought her pastor, Tim Goble, to offer a prayer for a session of Congress.
Rodgers' speech Tuesday was noted for its cozy fireside chat feel as she referenced her experience as the mother, like Palin, of a child born with Down syndrome.
"The doctors told us he could have endless complications, heart defects, even early Alzheimer's. They told us all the problems. But when we looked at our son, we saw only possibilities. We saw a gift from God," Rodgers said. "Today we see a 6-year-old boy who dances to Bruce Springsteen; who reads above grade level; and who is the best big brother in the world."
Before her speech, Rodgers posted a picture on Instagram of her holding her youngest, 8-week old-daughter Brynn. She's the first member of Congress to give birth twice while in office.
Photo courtesy of cathymcmorris via Instagram
She acknowledged the struggle of many Americans who lacked health insurance due to pre-existing conditions, a point Obama made in his address. "And that whether you're a boy with Down syndrome or a woman with breast cancer, you can find coverage and a doctor who will treat you," she said.
She ended on a particularly faith-filled point by offering prayer.
"So, tonight, I simply offer a prayer … your family, and for our larger American family. That, with the guidance of God, we may prove worthy of his blessings of life, liberty and the pursuit of happiness," she said. "For when we embrace these gifts, we are each doing our part to form a more perfect union. May God guide you and our president, and may God continue to bless the United States of America."
KRE/MG END BAILEY