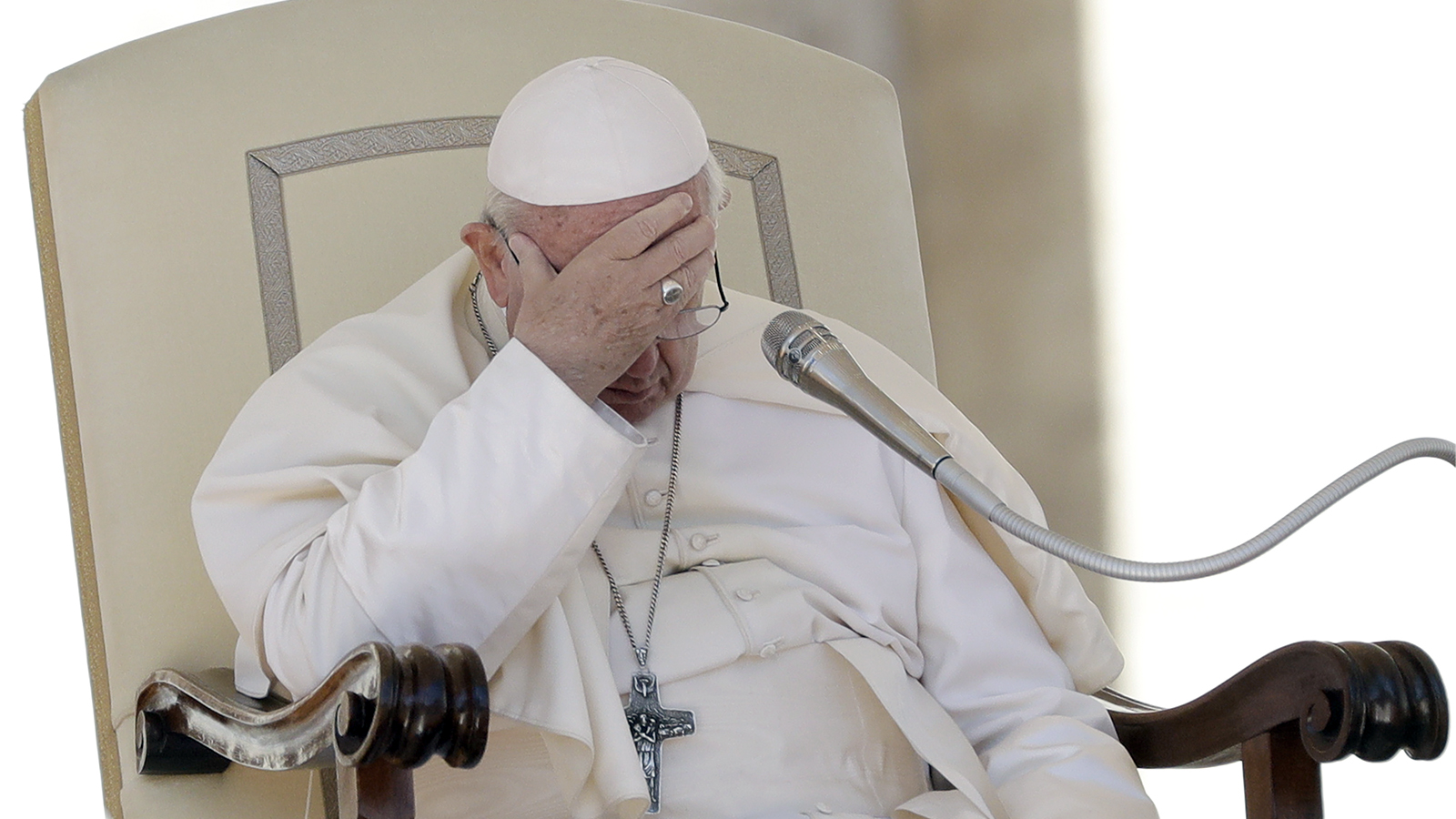 US confidence in Pope Francis' handling of abuse scandal drops
(RNS) — Confidence in Pope Francis' handling of the child sex abuse scandal within the Catholic Church has dropped dramatically among American Catholics in recent months, according to a new survey from the Pew Research Center.
The report, released Tuesday (Oct. 2), shows that only 3 in 10 Catholic adults (31 percent) say Francis is doing an "excellent" or a "good" job addressing the ongoing child sex abuse crisis. That number is down 24 points since Pew asked the question in 2015, and 14 points from January of this year.
And while a solid majority of U.S. Catholics — 72 percent — expressed a favorable overall view of Francis in the survey, that number constitutes a 12 point drop from January, when 84 percent said the same. Meanwhile, 20 percent say they have an unfavorable view of the pontiff, up from just 9 percent earlier this year.
Researchers noted that the dip is evident across multiple cross sections of the faithful. The share of Catholic men and women who believe Francis is doing an "excellent" or "good" job handing the sex abuse crisis has dropped almost equally: 24 and 23 points respectively. Older and younger churchgoers, and even Catholics who say they attend Mass weekly, were on the whole less approving of the pope. Of the latter group, only 34 percent give Francis an "excellent" or "good" rating. In 2015, that number was 67 percent.
Taken together, Francis' overall favorability ratings among U.S. Catholics now roughly match those of his predecessor, Pope Benedict XVI.
Francis' popularity has also declined among other U.S. Christians. In January, 52 percent of white evangelical Protestants had a favorable view of the pope, but that number fell to 32 percent in September. Mainline Protestants saw a similar drop: 67 percent had a favorable view in January, but only 48 percent do now.
Views of Francis among the religiously unaffiliated, however, have changed little in 2018, dropping from 58 percent favorability in January to 53 percent today.
The findings come in the wake of renewed activity in the United States surrounding allegations of child sex abuse in the church. In August, Pennsylvania Attorney General Josh Shapiro unveiled a more than 1,300-page grand jury report detailing allegations of sexual abuse by hundreds of Catholic priests in the state over 70 years that resulted in more than 1,000 alleged child victims, as well as accusing church leaders of a "systemic" cover-up. Since then, at least 11 other states have launched some sort of inquiry into local dioceses regarding sexual abuse.
Meanwhile, Francis — along with Benedict — has faced accusations of mishandling alleged sexual misconduct by former Washington, D.C., Cardinal Theodore McCarrick. Francis removed McCarrick from public ministry in June after reports he allegedly sexually abused a teenager more than 40 years ago. But an open letter written by Archbishop Carlo Maria Viganò in August claimed Francis lifted earlier sanctions placed on McCarrick by Benedict that were imposed, according to Viganò, in response to rumors that McCarrick sexually harassed adult seminarians.
The claims by Viganò, who previously served as the papal ambassador (typically called a nuncio) to the United States, remain a matter of heated dispute. It is unclear what kind of sanctions Benedict placed on McCarrick, if any, and whether they were ever enforced.
Nevertheless, the controversy has haunted Francis' papacy throughout 2018. In January, Francis faced sharp criticism for defending Chilean Bishop Juan Barros, who was facing allegations of covering up a child sex abuse scandal. The pope eventually shifted course and went on to accept the resignations of three Chilean bishops (including Barros).
The Pew survey was conducted Sept. 18-24 among 1,754 adults, including 336 Catholics. Among the Catholic subgroup, the survey has a margin of error of plus or minus 6.2 percentage points.