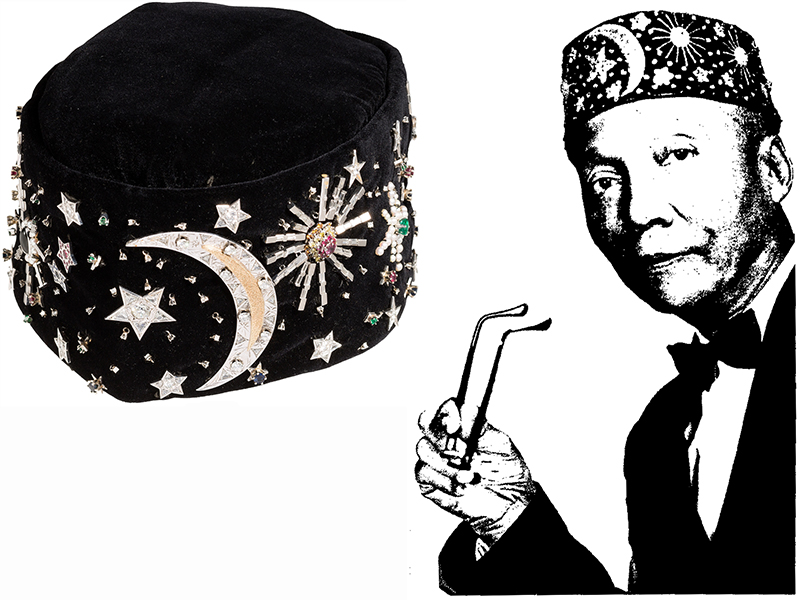 Nation of Islam jewelry, clothing and documents slated for auction
(RNS) A diamond-encrusted gold ring and kofia worn by Nation of Islam leader Elijah Muhammad, plus a trove of documents from the early years of the religious group, are expected to collectively fetch about $500,000 at auction.
"It's really a unique collection," said Eric Bradley, head of public relations for Heritage Auctions, which is handling the sale.
[ad number="1"]
Items from the first four decades of the religious black separatist movement, founded in 1930, will go on the auction block in Dallas on Thursday (May 11), but bidders from around the world may compete online.
The auction is divided into three lots: the ring, the hat and the documents  — 29 boxes' worth that include sermon notes and lesson plans.
The opening bid on Muhammad's 14 karat gold ring — bearing the Nation of Islam star-and-crescent symbol and encrusted with 11 diamonds — is $1,000, Bradley said. Bids on the kofia start at $10,000, but it could go for double. And the minimum on the documents is $250,000.
The auction items belong to the family of Burnsteen Sharrieff Muhammad, who served as secretary for Nation of Islam co-founder W.D. Fard, who led the group until 1934.
Bradley said the family was trying to decide what to do with the items and documents, and concluded that "now is a good time," to sell them, he said.
[ad number="2"]
The Nation of Islam today is far smaller than the mid-20th-century organization that attracted thousands of African-Americans with its message of self-sufficiency and piety, its mistrust of the white establishment and its call for black separatism.
Then the dominant stream of Islam in America, it no longer is. Today, most mainstream adherents of Islam in the U.S. and abroad consider many of the Nation of Islam's beliefs heretical.
The Nation of Islam's two most famous converts, boxer Muhammad Ali and civil rights leader Malcolm X, both eventually broke with the organization.
Its prominence grew somewhat in the mid-1990s, especially after its sponsorship of the Million Man March in Washington, D.C., in 1995. The Nation of Islam's current leader, Louis Farrakhan, 83, is considered controversial for his anti-Semitic and homophobic sermons, his claims to have visited outer space, and false assertions that vaccines cause autism and that 9/11 "was an inside job."
[ad number="3"]