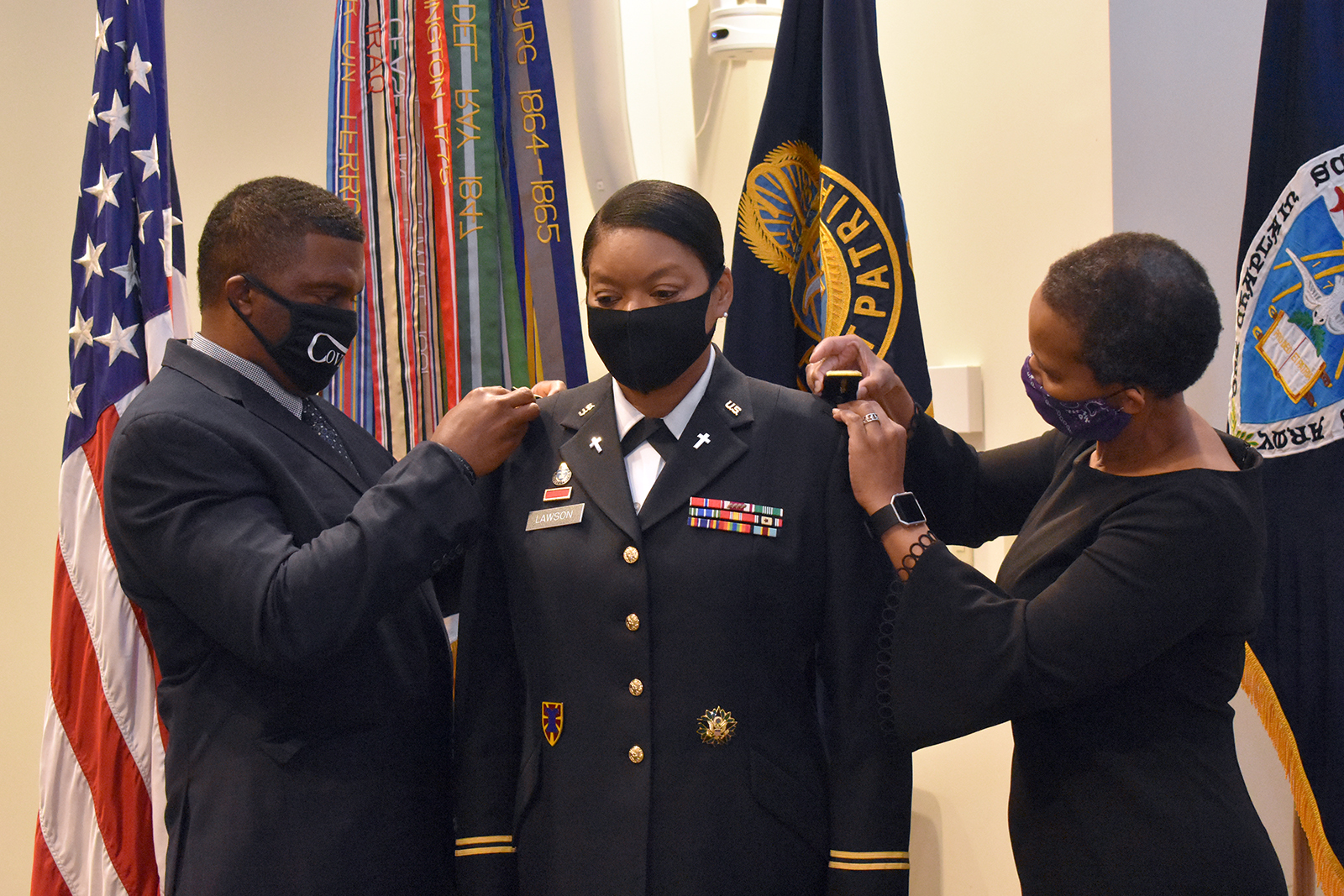 The Rev. Maurice Lawson, left, and Aretha Denard, right, change the jacket shoulder insignia for Chaplain (Col.) Monica R. Lawson, center, during her promotion ceremony to colonel on Sept. 2, 2020, at Fort Jackson, South Carolina. Photo courtesy of USACHCS
Need to know: Friday, September 4, 2020
Chaplain (Col.) Monica R. Lawson said: 'just in case you didn't figure it out, it took us 245 years for this moment to happen.'
About 200 people — including the head of the largest Lutheran denomination in the United States — gathered Wednesday (Sept. 2) at a prayer vigil in Kenosha to confess and lament the police shooting of Jacob Blake.
Jewish law requires that the shofar be heard in person. But with synagogues shuttered because of the coronavirus, many Jews are dusting off old ritual objects and taking online lessons.
More than two dozen people joined a brightly colored flotilla for Kayak Church on Sunday (Aug. 30) as Faith United Church of Christ.
"We're finally now getting to the point where we're going to be addressing the original sin of this country, 400 years old … slavery and all the vestiges of it," Biden said at Grace Lutheran Church, where he met with community leaders.
At one point, conservative political outreach to pastors may have led with church teachings or Bible passages. But it's clear that conservatives are seeking engagement simply in order to make Christians more conservative, writes Angela Denker.
Latest news from RNS
(AP) — Two men have accused Paul A. West, once a Franciscan Friar and fourth-grade teacher, of molesting them in Mississippi, Wisconsin and New York while they were elementary school students.
Interfaith Movement for Human Integrity said Gov. Gavin Newsom can stop the transfers of detainees from state prisons to immigration detention facilities by issuing an executive order.
More than 950 individuals have registered to attend free monthly sessions that will feature Asian, Black and Latina experts on cross-cultural and multiethnic relations.
More views from RNS
(RNS) — The media is where most Americans learn about Muslims. Instead of reinforcing stereotypes, MSNBC's Joy Reid can help tell the real story about Muslims and violence.
This country's anti-Black narrative threatens the lives of not only the 13% of this country's population who are targeted by it; it threatens the survival of the nation itself, writes Kelly Brown Douglas.
There is a saying, or hadith, from the Prophet Muhammad on the tiered approaches we are obligated to take when confronted with evil. Identifying Liverpool's malfeasance is only a start, writes Jalal Baig.